On 16 September 2022, a 22-year-old Iranian/Kurdish woman named Mahsa (Jina) Amini (Persian: مهسا امینی), (Sorani Kurdish: ژینا ئەمینی,) died in a hospital in Tehran, Iran, under suspicious circumstances. The Guidance Patrol, the religious morality police of Iran's government, arrested Amini for not wearing the hijab in accordance with government standards. The Law Enforcement Command of Islamic Republic of Iran stated that before transferring her to the hospital, she had a heart attack at a police station, collapsed, and fell into a coma. However, eyewitnesses, including women who were detained with Amini, reportedly said she was severely beaten, and that she died as a result of police brutality, which was denied by Iranian authorities. These assertions, in addition to leaked medical scans, led independent observers to believe Amini had had a cerebral hemorrhage or stroke.
Amini's death resulted in a series of protests, the largest Iranian protests since 1979. Some female demonstrators removed their hijab or publicly cut their hair as acts of protest. By October 2022, Iran Human Rights reported that at least 300 people were killed by security forces confronting protests across the country; Amnesty International reported that Iranian security forces were, in some cases, firing into groups with live ammunition, and in other cases were killing protesters by beating them with batons.
Jina Amini was born on September 23, 199 to a Kurdish family in Saqqez, Kurdistan Province, in northwestern Iran. While Mahsa was her legal given name (as only Persian names may be registered in Iran), her Kurdish name was Jina (also spelled Zhina), and was the name she was known as to her family. She had one younger brother. Her father is an employee in a government organization and her mother is a housewife. She attended Taleghani Girls' High School in Saqqez, graduating in 2018. At the time of her death, Amini had just been admitted to university and aspired to become a lawyer.
Amini's cousin, a left-wing political activist belonging to the Komala party and a Peshmerga fighter living in self-exile in Iraqi Kurdistan, was the first member of Amini's family to speak to the media after her death. He debunked claims by the Iranian government that Amini was involved in any politics. Instead, Amini has been described as having been a "shy, reserved resident" of her hometown who avoided politics, was never politically active as a teenager, and was not an activist. Amini's family have described her as having no prior health conditions, and as being a "healthy" 22-year-old, contrasting the claims made by the Iranian government that she possessed prior health conditions.
Circumstances of death
Amini had come to Tehran to visit her brother and on 13 September 2022 was arrested by the Guidance Patrol at the entry of the Shahid Haghani Expressway in Tehran while in the company of her family. She was then transferred to the custody of Moral Security. Her brother, who had been with her when she was arrested, was told she would be taken to the detention center to undergo a "briefing class" and released an hour later. Her brother was informed his sister had had a heart attack and a brain seizure at the police station to which she had been taken. Two hours after her arrest,[46] she was taken to Kasra Hospital.
According to Amini's cousin, she was tortured and insulted in the van, as witnessed by her co-detainees. After she arrived at the police station, she began to lose vision and fainted. It took 30 minutes for the ambulance to arrive, and an hour and a half for her to get to Kasra hospital.
For two days, Amini was in a coma in Kasra Hospital in Tehran. On 16 September, journalist Niloofar Hamedi (later arrested) broke the story of her coma, posting to Twitter a photo of Amini's father and grandmother crying and embracing in the hospital hallway. Amini died in the intensive care unit later that day.
Evidence and testimony
Kasra Hospital was the place where Amini died.
According to the BBC, eyewitnesses said Amini was beaten by police while in the police van shortly after arrest. By 17 September, Iranian police were denying the allegations of beating, and were claiming she had "suffered a sudden heart failure".
The clinic where Amini was treated released a statement on Instagram saying that she had already been brain dead when she had been admitted around 13 September. By 19 September, the post had been deleted.
On 17 September, the police chief of Tehran stated that the grounds of Amini's arrest had been for wearing her headscarf improperly and for wearing tight pants.
By 19 September, police had released CCTV footage showing a woman, who they identified as Amini, talking with an official who grabs Amini's clothing. Amini holds her head with her hands and collapses. Amini's father dismissed the footage as an "edited version" of events.
Amini's brother noticed bruises on her head and legs. The women who were detained with Amini said she had been severely beaten for resisting the insults and curses of the officers who had arrested her.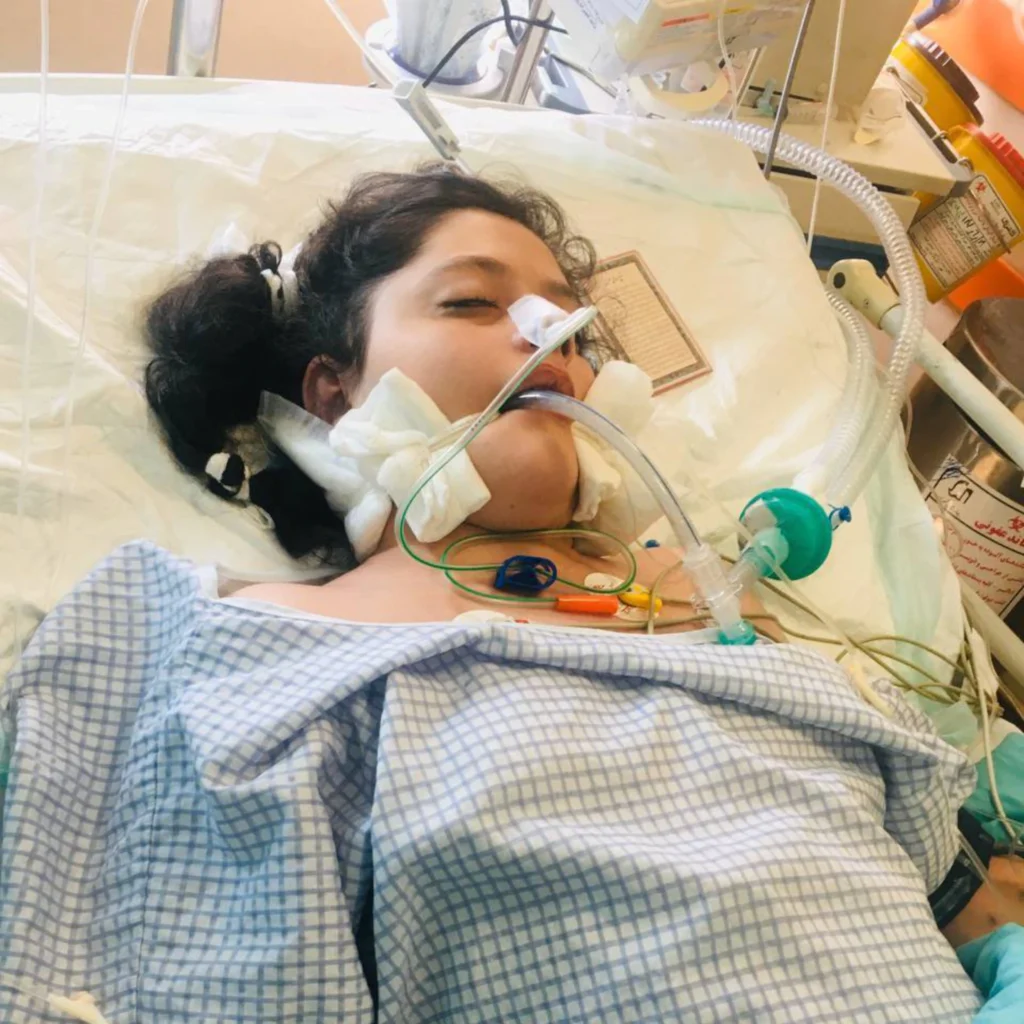 Published hospital pictures show Mahsa Amini bleeding from the ear and sporting bruises under her eyes. In an 18 September letter, Doctor Hossein Karampour (the top medical official in Hormozgan province), pointed out that such symptoms "do not match the reasons given by some authorities who declared the cause to be a heart attack… (they are instead consistent with) a head injury and the resulting bleeding." This was also confirmed by alleged medical scans of her skull, leaked by hacktivists, showing bone fracture, hemorrhage, and brain edema.
According to Iran International, the Iranian government was forging fake medical records for Amini, showing that she had a history of heart disease. On 20 September, Dr. Massoud Shirvani, a neurosurgeon, stated on state-owned television that Amini had a brain tumor that was extracted at the age of eight.
By 21 September, the hospital had released preliminary CT scans. Government supporters stated the CT scans showed psychological stress caused by a previous brain operation; critics stated the scans showed physical beating and trauma. The Iranian government stated Amini had a brain operation at the age of five.
Regarding various government claims, Mahsa Amini's father (Amjad Amini) told the BBC around 22 September that "they are lying… She never had any medical conditions, she never had surgery." (Two classmates, interviewed by the BBC, said that they weren't aware of Mahsa ever being in the hospital.) Amjad said he had not been allowed to view his daughter's autopsy report. He denied that Mahsa had been in bad health. "I asked them to show me the body-cameras of the security officers, they told me the cameras were out of battery." Iranian authorities had charged that Mahsa was wearing immodest clothes when arrested; Amjad rejected this claim, stating that she always wore a long overcoat. Amjad said he was repeatedly prevented by medical staff from seeing his daughter's body after her death: "I wanted to see my daughter, but they wouldn't let me in", and charged that when he asked to see the autopsy report, he was told by the doctor: "I will write whatever I want and it has nothing to do with you." Amjad saw the body after it had been wrapped for funeral, and noticed bruises on her feet, but could not see the rest of the body due to the wrapping. Iranian authorities denied any head injuries or internal injuries.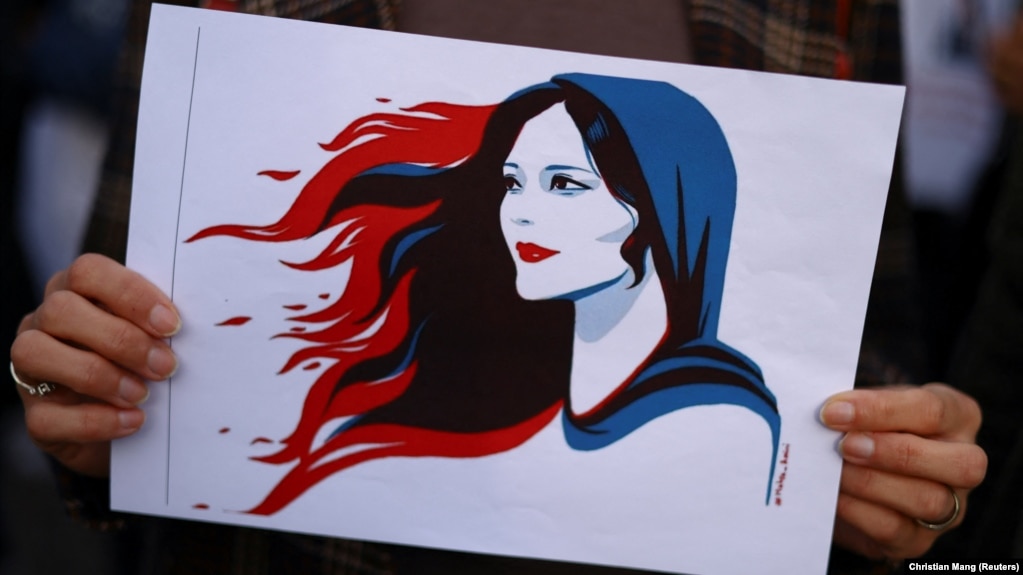 According to Iran International, on 29 September an audio file was released by a former commander of Iran's Revolutionary Guards Corps, which reports unnamed "reliable sources" saying that the reason for Mahsa Amini's death was an injury to her skull and that the injury was the result of a severe beating.
The Amini family's lawyer, Saleh Nikbakht, told the Etemad online news website that "respectable doctors" believe Mahsa was hit in custody.[68] Nikbakht also said the family wants a fact-finding committee to probe her death, and that police footage filmed after her arrest should be handed over.
By 2 October, Amini's family had acknowledged that Amini had an operation for a minor neurological condition (possibly a brain tumor) at the age of eight, but said it had been under control through levothyroxine (medication to treat hypothyroidism), and that her doctors had recently given her the all-clear. Citing medical specialists they had consulted, the family stated the condition was unrelated to Amini's death.
A 7 October coroner's report stated that Amini's death was "not caused by blows to the head and limbs" and instead linked her death to pre-existing medical conditions, ruling that she had died from multiple organ failure caused by cerebral hypoxia. The report stated Amini had had a brain tumor operation when she was eight. The report did not say whether Amini had suffered any injuries.
In a 13 October letter, over 800 members of Iran's Medical Council accused the head of Iran's Medical Council of assisting in a government cover-up of the cause of Jina Amini's death.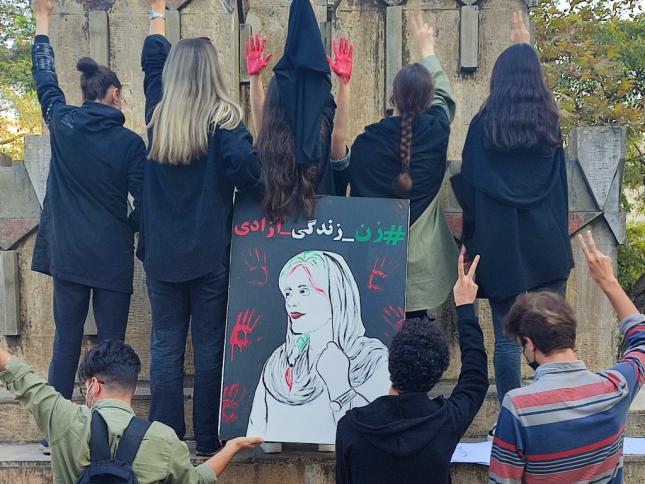 Protests
An ongoing series of protests and civil unrest against the government of Iran began in Tehran on 16 September as a reaction to the death of Amini that day following police custody, after she was arrested by the Guidance Patrol for wearing an "improper" hijab—in violation of Iran's mandatory hijab law—while visiting Tehran from Saqqez. According to eyewitnesses, Amini was severely beaten by Guidance Patrol officers—an assertion denied by Iranian authorities.
The protests began hours after Amini's death, starting at the hospital in Tehran where she was treated and quickly spreading to other parts of the country, first to Amini's hometown of Saqqez and other cities in the province of Kurdistan including Sanandaj, Divandarreh, Baneh and Bijar. In response to these demonstrations, beginning around 19 September the Iranian government implemented regional shutdowns of Internet access. As protests grew, a widespread Internet blackout was imposed along with nationwide restrictions on social media.[80] In response to the protests, people held demonstrations in support of the government across several cities in Iran, in an attempt to counter the protests. The Iranian government has referred to these counter-protests as "spontaneous".The pro-government protesters called for the anti-government protesters to be executed, and have referred to them as "Israel's soldiers", whilst shouting "Death to America" and "Death to Israel", reflecting Iran's clerical rulers' usual narrative of putting the blame of the unrest on foreign countries.On 3 October, in his first statement since the outbreak of the protests, Supreme Leader Ayatollah Ali Khamenei dismissed the widespread unrest as "riots", and likewise tried to cast it as a foreign plot.
The inscription on Amini's tombstone reads in Kurdish:
Kurdish: ژینا گیان تۆ نامری. ناوت ئەبێتە ڕەمز
romanized: Jîna gyan to namirî. Nawit ebête remz.
"Beloved Žina [Mahsa], you will not die. Your name will become a symbol (for freedon).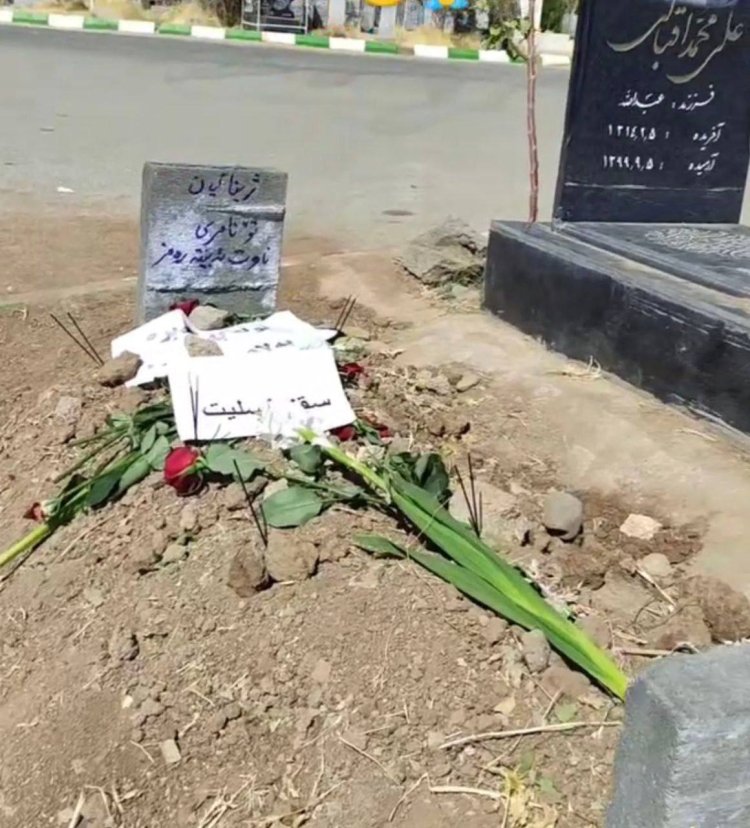 According to Iran Human Rights, as of 8 October 2022 at least 185 people[89] have been killed as a result of the government's intervention in the protests, involving tear gas and live rounds, making the protests the deadliest since the 2019–2020 protests that resulted in more than 1,500 fatalities.The government's response to the protests has largely been condemned, and the United States Department of the Treasury has sanctioned the Guidance Patrol and several high-ranking Iranian officials.
On the streets
People protest against Amini's killing in Tehran's Keshavarz Blvd
On 17 September, hours after Amini died, demonstrators gathered outside Kasra Hospital in Tehran, where Amini had been treated. Human rights groups reported that security forces deployed pepper spray against protesters and that several were arrested.Then a series of protests broke out over Amini's death, including in Saqqez, her hometown.[95] Some shouted "death to the dictator", and Kurdish feminist slogans such as "woman, life, freedom".
A spokesperson for Hengaw, a Kurdish human rights group, stated that "the security institutions forced the Amini family to hold the funeral without any ceremony to prevent tensions."
On social media
Amini's beating and death caused widespread anger among several social networks. The hashtag #MahsaAmini became one of the most repeated hashtags on Persian Twitter. The number of tweets and retweets of these hashtags exceeded 80 million.Some Iranian women posted videos on social media of themselves cutting their hair in protest. It was reported on 21 September that the Iranian government had blocked internet access to Instagram and WhatsApp and disrupted internet service in Kurdistan and other parts of Iran in an attempt to silence the unrest. As of 24 September, the hashtag #Mahsa_Amini and its equivalent in Persian broke the Twitter record with more than 130 million tweets. According to Professor Marc Owen Jones at Hamad Bin Khalifa University, of 108,000 accounts in a sample of online protestors, 13,000 were created in the month of September 2022, suggesting thousands of the accounts may be fake, presumably by pro- or anti-government manipulators.